Sounds-Write courses in Zambia - May 2015
I have just returned from a trip to Zambia. I ran three courses over there: at St Monica's in Lusaka, St Agatha's in Mongu and St Lawrence's in Limulunga. They were all Catholic primary schools, although some of the attendees worked in the Adult Literacy programmes.
Lusaka
Practising the lessons in pairs.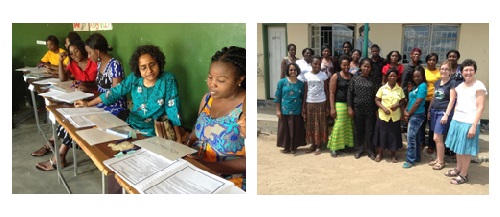 "I have enjoyed the Sounds-Write course so much. I hope I can teach the children as well as you taught us."
Mongu
Demonstrating a lesson in Mongu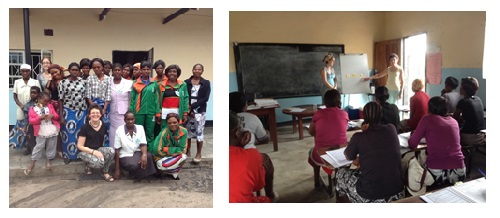 "Thank you for coming to our country. The course was so interesting and I learnt a lot of things that I didn't know. Thank you very much. I wish you could come again!"
Limulunga
We invited some children to demonstrate a lesson. The course was very well received. The teachers really appreciated the opportunity to learn more about phonics and be introduced to such a well sequenced and structured programme. It was a privilege to spend time with such wonderful, dedicated people. Hopefully, I have played just a small part in helping in their endeavour to educate the children and help them out of poverty.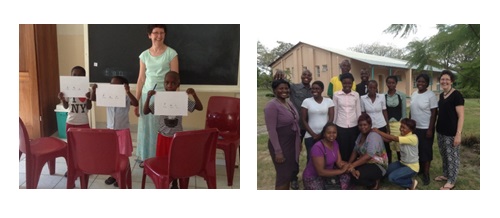 "This workshop was so interesting. I had fun and enjoyed myself. I have learnt a lot about how to teach sounds and spellings. I tried the method at home with my second born child and it was amazing to see that he was able to read and write some words he couldn't before. Thank you and God bless you."
---
Zambia – Aug-Sept 2018
I returned to Zambia in August to run two Sounds-Write courses: one in Mongu in the Western Province and one in Lusaka.
Mongu
We were very grateful to again be offered a classroom in St Agatha's Primary School. They have been using Sounds-Write in the younger classes since my last visit but this time, the head and her deputy attended the course and they now hope to run it out throughout the school. Many attendees were volunteers, who run classes for the women in their communities. There were three teachers from local government schools and two gentlemen who teach under the trees each afternoon, in their rural community of Ilundo.

Lusaka
This time I was able to use a room at St Daniel Comboni Social Development Centre in Makeni, Lusaka. The Comboni sisters have developed this amazing facility, providing classes for the children and women living on the compound. Many of the children have no other schooling. Many of the attendees were teachers and mentors who work in the Centre. There were some teachers from St Monica's Primary School, who attended last time and now display a thorough understanding of the programme and were able to help those who were new to Sounds-Write.